Gravitational Tides
---
Look closely at the gravitational force acting on a moon as it orbits its planet: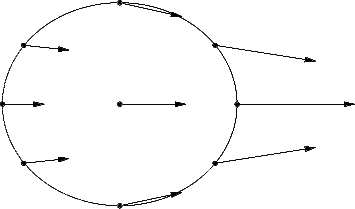 If we subtract the center of mass force, we see the differential force acting on it: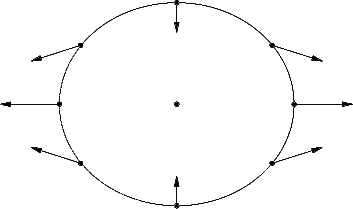 So gravity "stretches" and "squashes" a moon!

Let's look at this mathematically. The force of gravity is:

So the differential force (also called the tidal force) across a distance dr is

Note that
the tidal force is proportional to the mass of the primary (M)
the tidal force is inversely proportional to the distance cubed.
Note also that it works both ways -- the moon also stretches the planet!

Why is it called a tidal force?






What is stronger on the Earth, the tidal force from the moon or the tidal force from the Sun?


So the moon exerts a stronger force, but the Sun's tidal force can be significant. Hence the concept of spring tides and neap tides:
Spring Tides: Sun and Moon in alignment; tidal forces add. Big tides!
Neap Tides: Sun and Moon 90 degrees apart; tidal forces counteract. Small tides.

Remember: Tides are not merely a water effect! The Earth's surface also has tidal bulges, about 10cm in height. And the moon has an even greater tidal bulge -- 20m high.

Thought experiment: What happens when you keep squeezing and stretching a piece of silly putty? What does this have to do with tides?