Asymptotic Giant Branch Stars

---
So we left the star on the horizontal branch, with
a helium burning core
a hydrogen burning shell
Looks like this: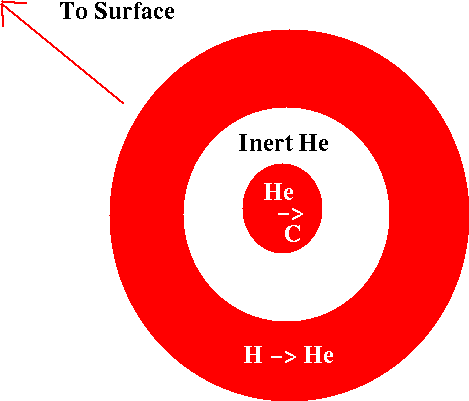 What happens when the center runs out of helium?
A very similar evolution to what happened when it runs out of hydrogen!
The "carbon/oxygen ash" core begins to build up. In a low mass star (M<8 Msun), carbon burning cannot occur - T and rho are too low. Since the carbon core can't produce energy to heat up and balance the weight of the star, the core contracts and heats.


As the C/O core contracts, heating the layers immediately outside, helium shell burning commences. This provides so much energy that the star begins to expand again.


More energy, high opacity means that convection again becomes important. A second dredge-up phase ensues.


Expanding photosphere, high luminosity --> the star becomes an asymptotic giant branch (AGB) star, aka a red supergiant: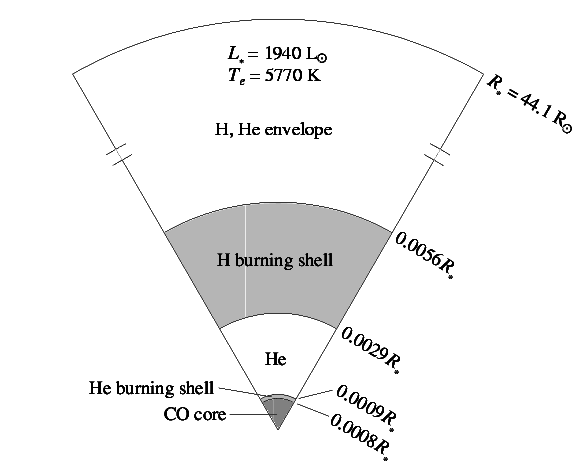 ---
The End of the AGB phase

AGB stars undergo periodic instabilities
Helium Shell flashes

The inert helium shell is continually having mass added to it from the hydrogen shell. It exists in a partially degenerate state, and when the mass gets too high, it can ignite in a flash similar to the first helium flash (on the red giant phase). This causes the star to drop in luminosity and contract in size (why?). This cycle repeats on ~ 105 yr timescales.


Long Period Variable Stars (LPVs)

Instabilities in the outer envelope cause AGB stars to pulsate on periods of several hundred days.
In a not-well-understood fashion, these processes may conspire to drive the strong mass loss observed in many AGB stars:

The outer layers of the AGB star are very extended (several AU), and are not very strongly bound to the star. The mass loss, pulsations, and low binding energy of the outer layers can drive them off of the star, turning into....

A Planetary Nebula